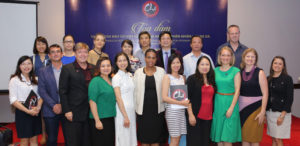 At the occasion of the World Rhino day, TRAFFIC released its briefing paper to encourage Vietnamese media to become 'agents of change' in effort to deter wildlife crime. Indochina Research Vietnam partnered with TRAFFIC to evaluate the impact of their behavior change campaign among influent men in Hanoi and Ho Chi Minh city in 2016 and 2017.
The behavior change campaign was named 'Chi initiative' and has proven to have an important reach among its primary target with 57% Effective Reach (in contact at least 3 times with the campaign) measured.
Key findings of our reports are presented in the briefing paper here:  Download the briefing paper
More about the Chi Initiative  
The Chi Initiative refers to a person's "inner strength of will" rather than relying on illegal products to gain success and respect. Further information can be found at www.suctaichi.com.