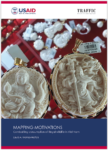 Indochina Research is the proud partner of TRAFFIC in Vietnam and happy to introduce their latest publication : Combating consumption of illegal wildlife in Vietnam, Mapping Motivations with the support of USAID.
More about the Chi Initiative  
The Chi Initiative refers to a person's "inner strength of will" rather than relying on illegal products to gain success and respect.
Further information can be found at www.suctaichi.com.