Considering the results from last year report by Yale University about environmental performances where Vietnam ranked in the top 10 worst air polluters in the World (Environment Performance Index), we wanted to address this topic and shine the light on the perceived sources of pollution and remedies as perceived by the citizens of the two Vietnamese megalopolis.
May 2019 – Hotspot survey results
As expected, the urban population is very conscious of the problem coming from the increasing number of vehicles. Smog coming factories and from works under construction complete the podium among the perceived top 3 sources of pollution.

As for their recommendation, 67% of respondents insists on planting more trees as well as ceasing the cutting of trees in the cities (48%).
Moreover, 49% of them consider there is a lack of education on this matter and there should be more awareness on the problem of pollution.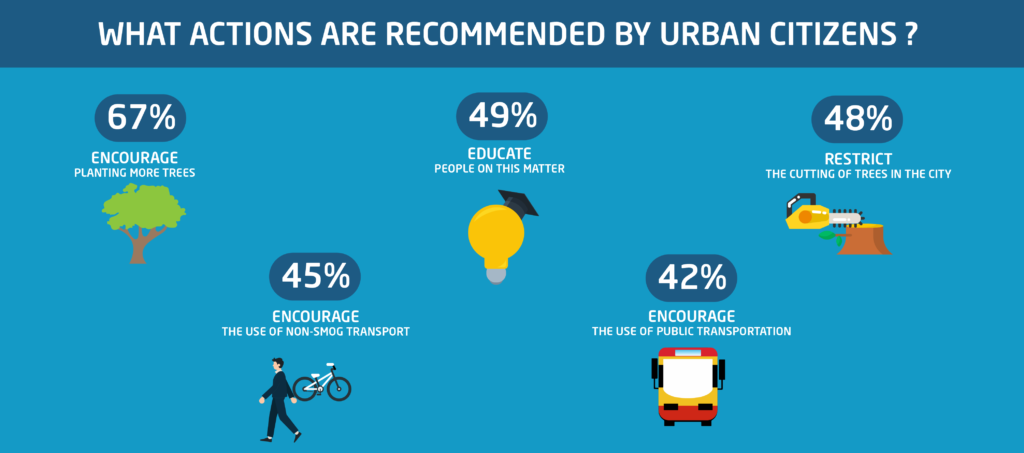 Finally, the last two main recommendations are to use either non-smog transportation modes such as bicycles (45%) or to use public transportation such as buses or the "soon" to be completed metros. Indeed, among the urban population of the two key cities, only 26% in Hanoi and 13% in Ho Chi Minh City uses public transportation (past 3 months) so the potential to increase its usage is important.
Interestingly, the awareness on both metro project only reach about half of its city population. Furthermore, most are concerned about the multiple delays for both project with 75% of Ho Chi Minh City residents and 41% of their Hanoi counterparts considering they would have to wait for another 24 months (until 2021) before they can benefit from it.
Refer to our urban transportation study results for more information
---
Indochina Research can support you in getting more performance out of your marketing by implementing high quality offline and online research programs ! Contact us : contact@indochinaresearch.com