From the result of End Of Year Survey, among the world's happiest people, 7 out of 10 urban Vietnamese are happy (53%) or very happy (16%), a 3% increase from last year (66%).
Happiness index – 69% feel Happy in this year end
Among the happiest people in the world, 7 out of 10 urban vietnamese feel happy (53%) or very happy (16%) which is +3%pts compared to last year (66%).
In terms of the physical health, 9 out of 10 Vietnamese feel healthy or very healthy (93%).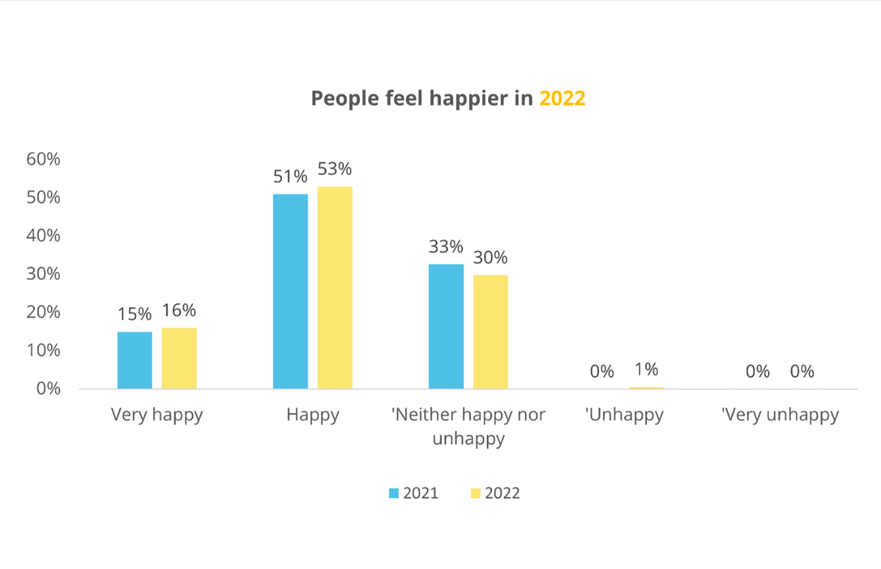 Optimism Index – More optimistism for the coming year
Generally optimistic, 6 out of 10 interviewees (62%) think that 2023 will be a better year for them. This is a 3%pts increase compared to 2021, which added on to the decrease in number of people who consider 2023 to be worst (8% vs 12%), more Vietnamese are optimistic for the coming year, with an overall optimism index at 54pts in 2022, vs 47pts in 2021.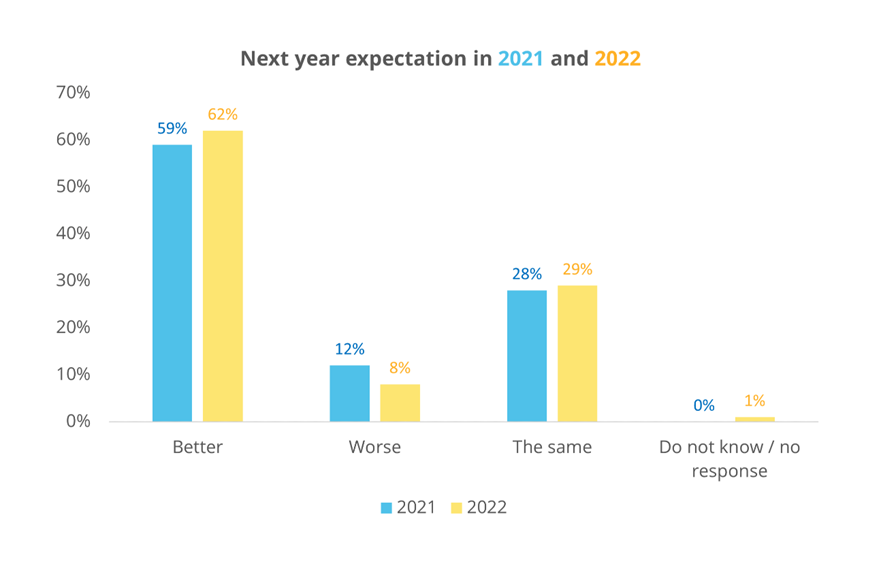 Economic expectations for 2022
Overall, 58% of respondents believe that 2023 would be a prosperous year for the Vietnamese economy overall.
Overall, 58% of respondents believe that 2023 would be a prosperous year for the Vietnamese economy.
Regionally, significantly more respondents from Danang (75%) feel the economy will prosper, possibly due to the positive impact from the boarder re-opening and the in-flow of tourist.
Further South, more people in Ho Chi Minh city and Can Tho consider 2023 will be similar economically, which has just been announced by Reuters as the fastest growth in past years at 8% GDP for 2022, backed by strong domestic retail sales and exports.
Stock market sentiment for 2023
Indochina Research Vietnam studied the behavior of retail investors during the 2021-22 period in cooperation with Dynam capital to understand how stock market investors trade and measure their sentiments towards the changes in the market.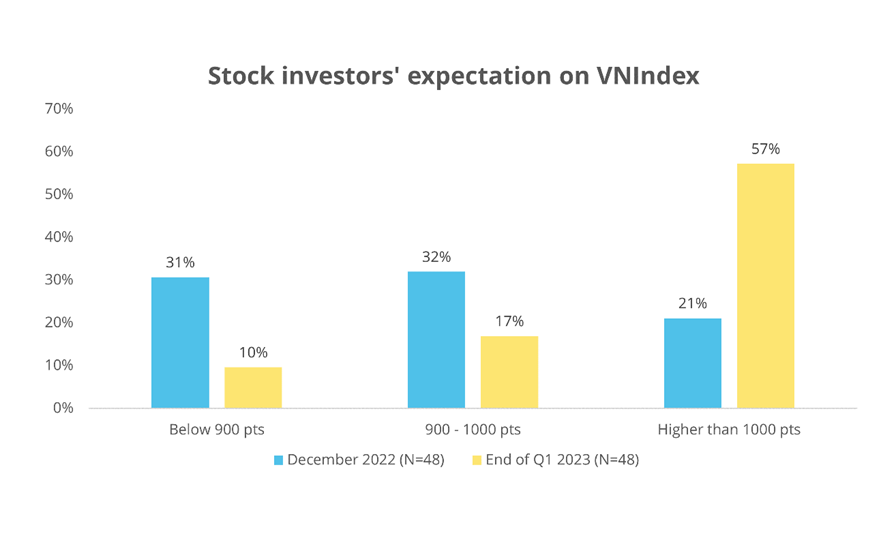 During the End of Year survey, the VN-Index fluctuated between 900 and 1000 pts.
When asked about their estimation by the end of year 2022, only 3 out of 10 (32%) investors consider it would be within the same range of 900 to 1000 pts; another 1/3rd consider it would go down below 900 points (31%); and only about 5% think the VN-Index will be higher than 1000.
Positively, when asked about the end of the first quarter 2023, more than 1 out of 2 investor (57%) consider the VN-Index will go above 1,100pts; 17% consider it will stay within the same range of 900 to 1000pts, and only 10% think it will be lower than 900.
The positive views on the stock market growth confirms the strong confidence from retail investors about domestic stocks measured in cooperation with Dynam Capital, in June 2022, when 3 out of 4 investors (75%) were feeling optimistic and expected to gain 10-30% by the end of 2022. (Reports available upon request : [email protected])
Despite optimism and prosperity, inflation change people lifestyle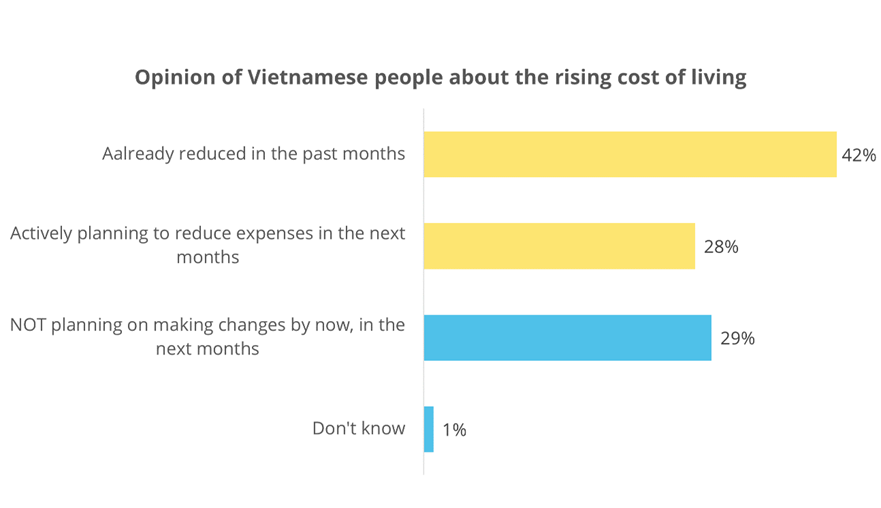 Globally, inflation has been on the rise following the end of the epidemic and energy price increase.
Feeling the rising cost of living, 7 out of 10 Vietnamese have either already reduced (42%) or planning to reduce certain expenses in the coming time (28%).
Still 3 out of 10 interviewees do not feel the need to reduce their expenses yet.
Next year's resolutions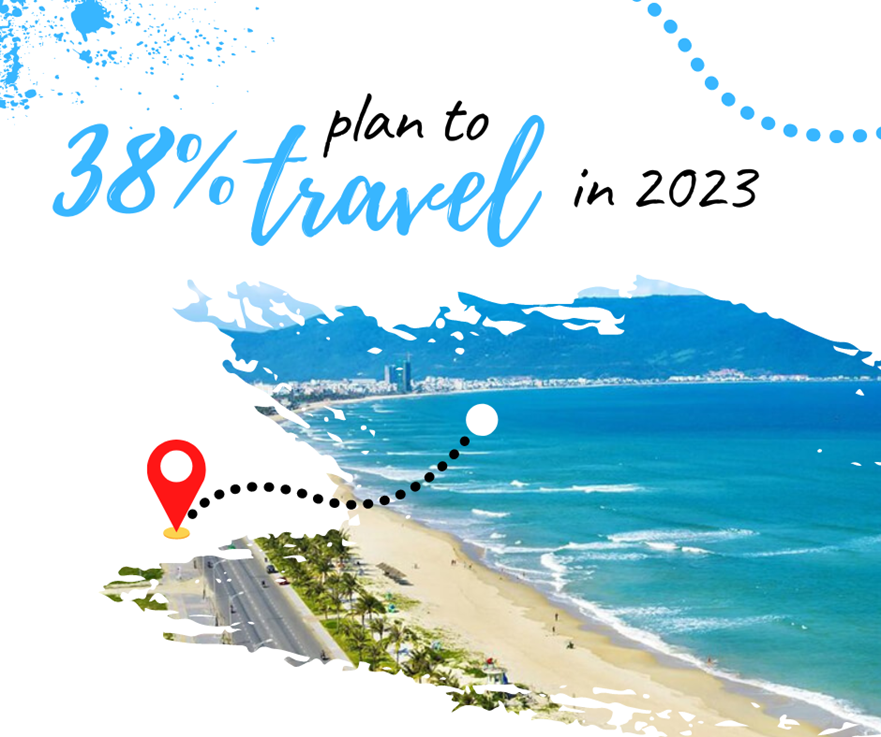 Positively, urban Vietnamese are upbeat about the future when they consider potential New Year's resolutions.
In 2023, 38% of interviewees said they would like to travel, 10% would like to further their education, 9% would like to purchase or renovate a home and only 1 out of 10 (9%) consider changing jobs or find a new one.
Methodology: The End of Year survey and Win World Survey are global research conducted by independent agencies members of the Gallup International Association or WIN Association. It provides a benchmark among more than 30 countries worldwide on different social and economic issues. In Vietnam, the 2022 survey is carried out by Indochina Research Vietnam among a representative sample of n=800 Vietnamese citizens living in Hanoi, HCM City, Can Tho and Danang urban districts, aged from 18 to 64 years old, from November to December 2022.
---
Please contact us for all your research projects in South East Asia
[email protected].
Indochina Research, Regional know-how you can trust!