Vietnam is recognised as a peaceful, charming, and stable country that offers a unique and vibrant tapestry of experiences for residents, expats and visitors alike. It boasts a rapidly growing economy, making it one of the most dynamic hubs for business and innovation in the region. Our research confirms that Vietnam holds a wealth of opportunities for exploration and residence.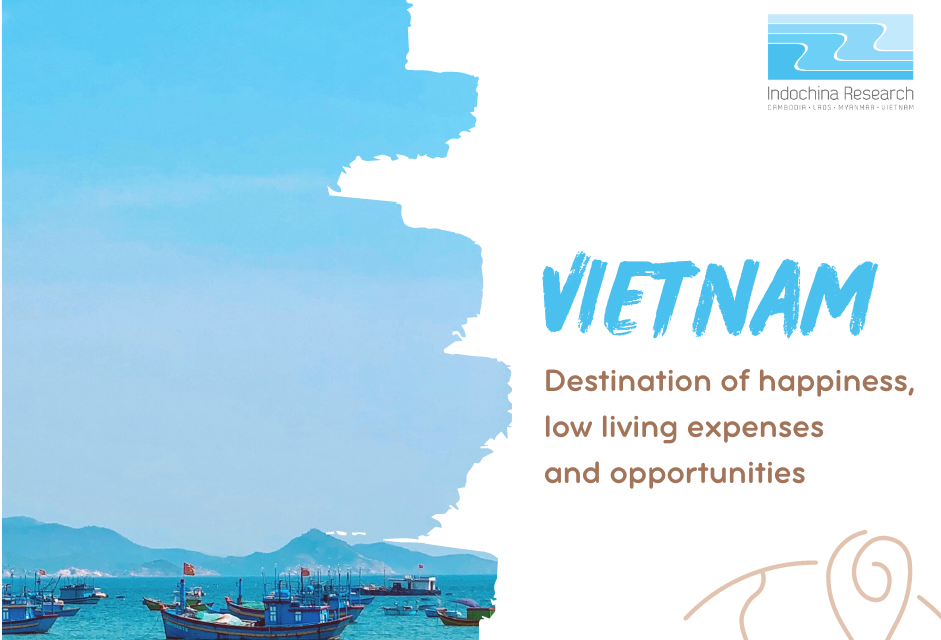 Vietnam – One of the preferred countries by Vietnamese and expats
According to the global opinion poll conducted by Gallup International Association (GIA) members and partners, when asked about a preferred place to live, 4 out of 10 people (36%) globally would be willing to migrate to another country, and 6 out of 10 would prefer staying in their own country. The preference for moving abroad is significantly higher in low-income economies, at 62% in average. Countries where the population is more inclined to "escape" are Sierra Leone (84%), Ghana (81%) and Nigeria (71%).
On the other hand, Vietnam is the country where the desire to stay is the highest (91%), followed by India (82%) and Pakistan (78%). The closest Asian countries are Indonesia (73%) and Japan (71%). This indicates that Vietnam is a preferable living for most of its residents.

Not only Vietnamese but also many foreigners think Vietnam is one of the ideal destinations to live and work. A survey by InterNations (2022) asserted that Vietnam was among the top 10 best destination for expats with 84% of them being satisfied with their lives in Vietnam. The welcoming and cordial nature of the local population is a distinct characteristic that contributes to the comfort of foreigners residing in Vietnam. Besides, Vietnam is regarded as the top nation globally concerning personal finance, with 80% of respondents expressing contentment with the cost of living here. People opt for Vietnam as it provides them with the chance to enhance their skills, boost their earnings, and secure a stable yet vibrant lifestyle.
Happiness Index in Vietnam is slightly up year after years
Besides being a favoured location for residence, Vietnam shows a significant improvements in its Happiness Index, but not yet recovering to the pre-Covid time
Indochina Research Ltd. Vietnam have conducted the tracking End of Year surveys to measure the Happiness Index of Vietnamese since 2017 (except 2018). Over the last 6-years, Vietnam's Happiness Index has plunged down to the lowest point of 61% in 2020 from a relatively high position of 78% in 2017. Most recently (Q4 2022), 7 in 10 urban Vietnamese (70%) reported feeling happy or very happy with their lives, marking an upward trend since the onset of the COVID pandemic.

3 out of 10 urban Vietnamese respondents live comfortably
While money doesn't necessarily equate to happiness directly, it can be perceived to contribute to happiness. In recent months, the cost of living has increased due to various factors, including COVID-19, political and economic crises affecting many countries. As results, people have been facing financial difficulties and struggles. Globally, only 1 out of 4 global respondents (25%) declared living comfortably, while 36% declare struggling financially.
Our annual WIN World Survey 2022 showed that 3 in 10 (30%) urban Vietnamese reported living a comfortable life, whereas 55% find themselves in a moderate scenario where they are neither living comfortably nor experiencing hardship.  Among APAC countries, Vietnam ranks first with the highest percentage of population (85%) living above the struggling threshold, with only 14 % reporting struggling financially.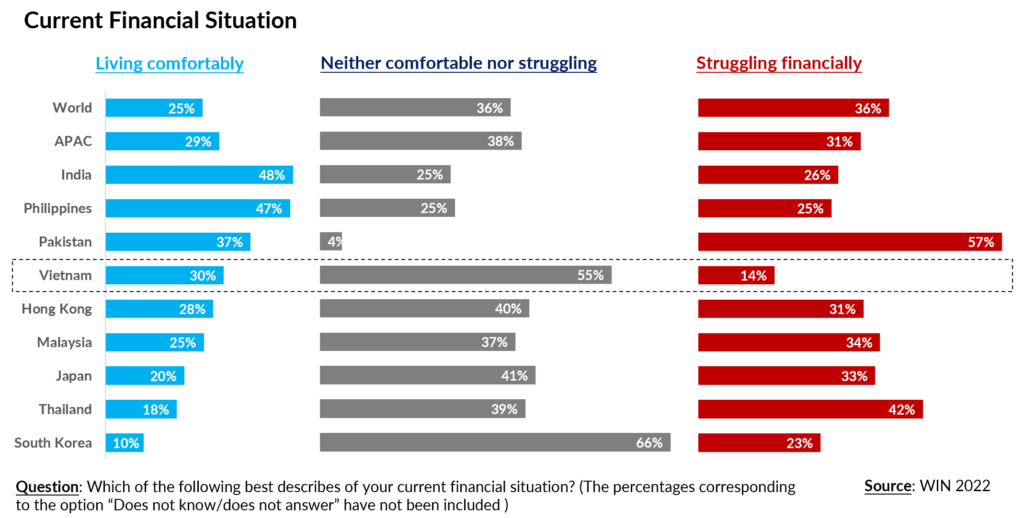 For any questions, feel free to contact us, or read our publications at https://indochina-research.com/news/
For further reference, please read:
---
Please contact us for all your research projects in South East Asia
[email protected].
Indochina Research, Regional know-how you can trust!